---
GET THE PERFECT CURLS WITHOUT DAMAGING YOUR HAIR WITH HEAT!
Love bouncy curls but hate frying your hair? Then the Heatless Hair Curling Wrap Kit is just the hairstyling solution for you! This handy kit naturally creates beautiful curls and waves in your hair. No more curling irons or salon trips!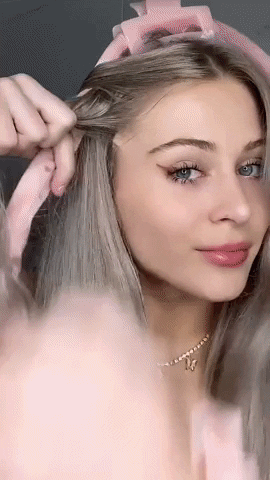 BENEFITS OF HEATLESS CURLER:
SAFE AND EASY TO USE: Designed for your convenience and ease of use. Takes only a few minutes to set up. Best of all, no more heat no more burns. Ouch!
TIME SAVER: Imagine all the time you can save every day by not spending hours on your hair. Just a few minutes at night, and you're ready to go when you wake up. Just release and go.
NATURAL FILLING MATERIAL: The curling rod contains all-natural cotton filling, so there will be no harsh odors and is completely comfortable to sleep in
PERFECT GIFTS: Perfect for anyone in your life seeking easy and safe alternatives to damaging heat rollers. No one will be upset seeing the  Heatless Curling Headband in their stocking this year.